Step Up With Sheehy Subaru for National Walking Day!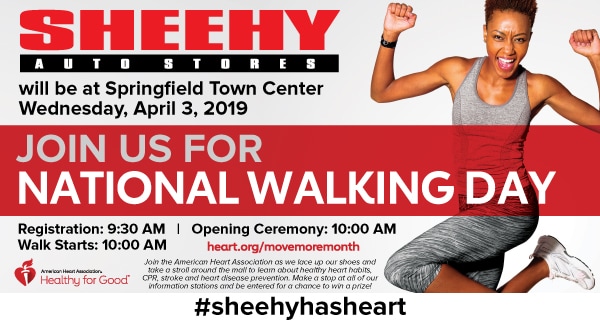 One small step for man, one giant leap for heart health! This year's National Walking Day is right around the corner and we couldn't be more thrilled to get moving and get healthy with the American Heart Association. This year's National Walking Day will be on Wednesday April 3rd from 10AM-12PM at Springfield Town Center and we hope that our loyal customers and members of our Springfield Virginia community will join us at the mall!

There's going to be a mile long walk through Springfield Town Center as well as educational stations along the route that promote easy ways to live a heart healthy lifestyle! These stations include a smoothie tasting booth, hands only CPR demonstrations, an interactive blood pressure activity, and a station about active transportation. Not only will you be moving and staying healthy, you'll also have an opportunity to win prizes like concert tickets and signed sports memorabilia.


What is National Walking Day?
National Walking Day is a day devoted to fighting against cardiovascular disease and stroke by getting up, getting moving and being active. People all over the United States including individuals, schools, businesses, and communities will be participating in National Walking Day by running, walking, working out or doing any other type of physical activity. 

According to the
American Heart Association
cardiovascular disease is the number one killer of men, women and children in the United States. Sitting too long and being inactive put people at a much higher risk of cardiovascular disease which is why becoming active and living a healthier lifestyle are so important. Additionally, the American Heart Association recommends that adults participate in at least 150 minutes of moderate physical activity every week to lower their cholesterol, drop weight and improve their overall health.
Sheehy Subaru's National Walking Day Participation
For this year's National Walking Day, not only will we be walking through the American Heart Association's course at Springfield Town Center we'll also be participating in the Sheehy Step Challenge! The Sheehy Step challenge is a competition between all
22 of Sheehy stores
to see which store can rack up the most steps in one day. It'll take place on Wednesday April 3rd and the winning store will get bragging rights as well as a gift basket full of heart healthy treats.
We're very excited for National Walking Day and are inviting everyone in our Springfield community to join us at Springfield Town Center on April 3rd to get moving and get healthy!