The 2022 Subaru Love Promise Community Commitment Award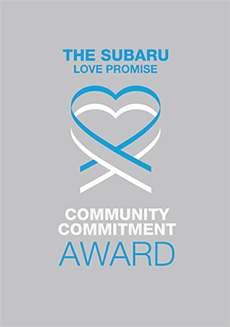 We've been nationally recognized for our dedication to our community and the Subaru Love Promise.
We're honored to receive the 2022 Subaru Love Promise Community Commitment Award. This award nationally recognizes Subaru retailers who are making the world a better place while demonstrating an outstanding commitment to supporting passions and causes in local communities. These efforts are focused in important areas such as the environment, community, health, education, and pets.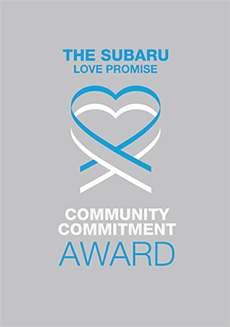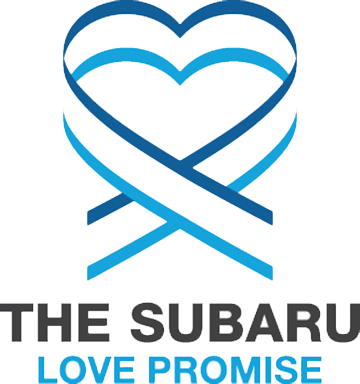 What is the Subaru Love Promise?
Subaru and our retailers believe in making the world a better place and the Subaru Love Promise is our vision of respecting all people. This is our commitment to show love and respect to our customers and to work to make a positive impact in the world.
How is Sheehy Subaru dedicated locally to the Love Promise?
April 1, we will partner with the American Heart Association for National Walking Day at Springfield Town Center. To learn more and register at nationalwalkingday.eventbrite.com
Robert E Lee High School, Edison High School, Hayfield Secondary School
American Heart Association
Love Promise Stories from Sheehy Subaru
Subaru and Sheehy Subaru believe in making a positive impact on the communities in which we live and work. We uphold that belief through our Love Promise Community Commitment. Every month, we select inspiring stories from customers and partners from around our area who strive to support our collective commitment and feature them here
Sheehy Donations Put Food on Neighbors' Tables - Joyce G
In 2021, Sheehy Volkswagen and Subaru of Springfield once again stepped up to help their neighbors in the Springfield and Burke, Virginia communities. For the ninth consecutive year, the dealership made generous contributions to the local 501 (c)(3) organization, ECHO. Ecumenical Community Helping Others is a 100% volunteer organization that has assisted neighbors needing a helping hand since 1968. Encouraged by the Catalogue for Philanthropy, ECHO launched its first online fundraising appeal the Tuesday following Thanksgiving. For the #Giving Tuesday effort, non-profit organizations were encouraged to seek a challenge match to provide a strong incentive for donors and to double the impact of their gifts. Sheehy pledged a gift of $5,000 that allowed ECHO to set a fundraising goal of $10,000 for the purchase of food coupons to give to clients. The coupons enable clients to select and purchase nutritious fresh produce and protein that supplement ECHO's considerable grocery distributions. Thanks to the Sheehy challenge, ECHO exceeded its Giving Tuesday goal with gifts totaling $13,500. In December, Sheehy contributed $8,000, an increase of $3,000 above its matching grant pledge. Sheehy's generous assistance helped ECHO meet the needs of the 1,200 families seeking food relief in 2021. In addition to its financial donation, Sheehy sponsored a food drive that resulted in 160 pounds of donated food. These donations of food and money contributed to the 315,270 pounds of food and $44,200 in fresh food coupons ECHO provided to clients in 2021. But weights and measurements don't tell the whole story. One recently unemployed mother loaded her donated groceries in her car in tears. As she expressed her gratitude for the abundant food, she shared that her son wanted to know why she couldn't take him for a fast-food meal. The counselor encouraged her to return for help from ECHO and to come back for clothing. Perhaps this savings might allow her to buy him that meal that many of his peers enjoy…and benefit from Subaru's promise to share the love.
---
Toy Drive Benefits Children in Need at Christmas - Angela S
For the past few years, Sheehy Subaru of Springfield, VA, has stepped up to the shopping challenge and donated hundreds and hundreds of Angel Tree gifts for children of low-income families through The Salvation Army totally well over $1,000. This is the story of Tommy, a child who got toys from this wonderful Subaru donation. Tommy's family was not going to celebrate Christmas with gifts again this year because his mom lost employment early in the pandemic and her temporary part-time jobs did not leave enough money left for toys. When Tommy's mom was at The Salvation Army for food assistance, she saw the registration to get free toys for Christmas. She signed up for Angel Tree with few expectations and told Tommy not to get his hopes up. Toy supplies were running low in the days before Angel Tree distribution, and with each child receives about $100 worth of toys, more toys were needed. Just then, hundreds of toys donated by Sheehy Subaru of Springfield showed up to the Salvation Army gift distribution center! Staff packed toys for Tommy and other children, and those children went back to school after the holiday break with a sense of normalcy. Even with his family struggling financially, Tommy felt like all the other children talking about their new gifts. With the biggest smile, he proudly showed off his toys and had the best day ever. Thank you, Subaru, for making happiness like this possible.
---
A Continuing Partnership for a Strong Community - Joyce G
ECHO (Ecumenical Community Helping Others) is proud to be a neighbor to the Sheehy Subaru in Springfield, VA. We are extremely grateful to be part of Sheehy Subaru's Love Promise Community Commitment for the last 8 years. Subaru's effort to work toward a "perfect world" in making hunger history and making help commonplace is reflected in the generosity shown by Russ Zakeri, General Manager of the dealership and the Sheehy corporation in continuing to support ECHO's mission. For over 50 years ECHO has assisted people in our community who are experiencing an emergency financial crisis by providing financial aid for essentials like rent, utilities, and medical bills. ECHO also provides thousands of bags of food, clothing, household goods, school supplies, as well as provisions for Thanksgiving or Christmas meals. This past year we saw a continuation of dire circumstances for people in our community brought on by the COVID pandemic. Demand for ECHO's services continued to reach record levels due to job, health and family situations. In response, Sheehy increased their level of giving to help ECHO to maintain the services we provide to our neighbors in the Springfield and Burke communities. Support provided over the past 8 years has totaled $41,000 making Sheehy Automotive a strong partner in ECHO's mission. In addition, Sheehy's local dealerships have held food drives which are essential to keeping our Food Pantry stocked. An ECHO client on a recent visit told us, "ECHO helps my children and my family with so much….Thank You!" This thanks extends to Sheehy's outreach to ECHO in a partnership that is making an impact in our community.
---
Happy 5th Subaru Owner! - James G
Roughly six (6) years ago, my wife, Trinishia, and I went into Sheehy Subaru of Springfield to see what the Subaru brand was all about and why their owners loved them so much. I must admit, we were quickly swept up into all the Subaru "hoopla" and we left that day with "his and her's" Subarus, a Forester and a Crosstrek. At that time, the Sales staff at Sheehy promised "As long as you have your Subaru and are inside or outside the DMV, we are here for you!!" I must say, over the years they have kept that promise and we are now on our 5th Subaru from Sheehy, with the 5th taking that promise to a new level. While having my wife's and my car serviced, I was talking to the regular Sales staff and telling them how we aren't utilizing our Subaru's as much because my wife primarily works from home and I now utilize a car assigned via work Monday-Friday, as a truck load of Foresters was pulling onto the lot. One of the vehicles on the truck, was a Forester Sport, a vehicle I have been thinking would be the next Subaru when the time was right. The crew at Subaru were able to show me how that was possible now. They showed, via my positive equity, they could upgrade me to the Sport with a lower payment and they purchased my wife's car, wrote her a check, and we drove away with my ideal Subaru, money in pocket and less overall household expenses (LOVE PROMISED and KEPT!!). Happy 5th Subaru Owner
---
Cancer Support Appreciation - S A
Dear Rasoul Zakeri, Thank you so much for the Care blanket. It arrived in the mail today. I appreciate it, and the sweet little card more than you can ever imagine. I was only diagnosed with MDS two months ago, and so all of this is new to me. I am in "watch and wait" status, which means treatment hasn't started for me, and I have a long, long road ahead. But your kindness is much noted, and I appreciate the generosity, sentiments, and efforts mean more to me than my words can express. Yours from my bottom of my heart, S. Annonymous
---
Ryan at Inova L.J. Murphy Children's Hospital - Taylor T
Last December, sweet, shy, 2 year old Ryan was taken to the Emergency Room at Inova Children's, only to be unexpectedly diagnosed with Leukemia. The next 6 months were filled with long hospital stays, tests and challenges that Ryan and his family never could have imagined. Being in a hospital can be scary, especially for a young boy; however Ryan and his family soon were introduced to their care team and started to feel a bit more comfortable. The team included Holly, a Certified Child Life Specialist, Kati, a Music Therapist, Catherine, an Art Therapist, and many fantastic nurses and doctors! Ryan's family are now able to look back on their time at Inova L.J. Murphy Children's Hospital, and feel full of joy because of all the amazing team members that touched their lives. Ryan met Holly, and they instantly became best friends. Ryan started to come out of his shell as Holly found ways to connect with Ryan and talk about his Leukemia diagnoses in ways he could comprehend as a 2 year old. When Ryan would have to get ready to check into the hospital for another round of chemo, he often would feel sad until his mom told him he would get to see Holly again and suddenly he was excited for his next hospital stay! Ryan's family had no idea they would be able to use Music and Art Therapy in the healing process when they first met Kati and Catherine. Kati was able to share the gift of music with the whole family, and helped Ryan to create a family band with his mom, dad and older brother! He even got to write his own lyrics to songs, and often sang about Thomas the Train, or the Therapy Dog, Bartley. Ryan's parents have said they are so appreciative of how Catherine, Kati and Holly always found ways to include Ryan's older brother in activities, as it can be hard for the siblings of a child with cancer as well. Catherine, the Art Therapist, was even able to provide activities and materials for Ryan's mom and dad to have a date night at the hospital for their anniversary. The team at Inova L.J. Murphy Children's Hospital helped Ryan and his family experience life as normal as they could while being at the hospital, and through these last 6 months, Ryan has blossomed into a strong, outgoing and independent little boy with a little help from his new friends. He was able to share and spread the joy and strength to other children battling with cancer, letting them know they're not alone, and helped others to build the courage they needed, and it all started with the Inova care team. They shaped him into the strong and joyful boy he is today and if it weren't for them, the journey would've been a lot harder. Thanks to our friends at Sheehy Subaru and their generous donors, we are able to provide these psychosocial services including Art Therapy, Music Therapy, Child Life Specialists, and Pet Therapy to patients just like Ryan, every day. The money raised and donated through the Sheehy Subaru Loves to Care event through the years, has helped us fund positions, buy much needed supplies and helped support the everyday activities of our care teams.
---
Thank You For Your Continued Support of ECHO - Anthony P
In December 2019, Sheehy Subaru and its sister dealership in Springfield donated a check for $5,000 to ECHO (Ecumenical Community Helping Others). This generous gift added to the $29,000 that Sheehy has donated over the past 7 years. As in prior years, Sheehy Subaru held a fall food drive for ECHO's benefit. Particularly in this year of the COVID pandemic when demand for ECHO's services has almost doubled due to increased unemployment, ECHO is grateful for Sheehy's long-term commitment to help people in Springfield and Burke, Virginia through our organization. For over 50 years ECHO has assisted people in our community who are experiencing an emergency financial crisis by providing financial aid for essentials like rent, utilities, and medical bills. It also provides thousands of bags of food, clothing, household goods, school supplies, as well as provisions for Thanksgiving or Christmas meals. Sheehy's major gift has contributed significantly to this accomplishment. ECHO is 100% volunteer, so, approximately 99% of Springfield Subaru's donation has gone directly to these client services. Due to COVID, ECHO is now giving away 8,000 pounds of groceries and personal care products each week. From March 1st - September 5th, the Food Room helped 1,012 families with 25,628 bags of food along with thousands of dollars of food coupons. All of this is being done by a dedicated volunteer staff greatly reduced in number following strict guidelines for a safe environment. Sheehy Subaru's donation has made it possible for ECHO to help people like the mother who came to ECHO because she was laid off, because of COVID, from her job working at the cafeteria of a government facility. She has been notified that all of the positions at her job will be permanently eliminated, so she is trying to find another full-time position with benefits. When loading her car with groceries from the ECHO food pantry, she burst into tears thanking ECHO for all that we are doing to help her and her 5-year-old son. Her tears were both of joy and sadness. This mother's story mirrors many we see daily. ECHO has been able to meet the needs of this young mother and so many others thanks to an outpouring of generosity from the Springfield and Burke community. Thank you Sheehy Subaru, for being a valued contributor that has allowed ECHO to step up to meet the significant increase in client needs during this unprecedented health and financial challenge for our community.
---
Poppy's Lego Express - Taylor T
Poppy, a very special seven year-old girl, was diagnosed with Acute Myeloid Leukemia four days before Christmas in 2018. Throughout the over two hundred days of her treatment at Inova Children's Hospital, Poppy became known for putting her toys in her red wagon and sharing them with other patients. Eventually, she started bringing her "welcome wagon" of toys to greet new kids that were arriving in the oncology unit. Once Poppy completed her treatment and was home, she wanted to make sure the kids who were undergoing treatment at Inova last holiday season were taken care of– enter Poppy's Lego Express. Putting together Lego sets was Poppy's favorite activity during her stay at Inova Children's Hospital and thought collecting and passing out Legos would be a great way to bring the holiday spirit to the oncology unit. Poppy's mom posted on Facebook her plans to collect new Lego sets to donate to kids and included a link to her wish list with a variety of LEGO sets that people might want to buy. To the surprise of Poppy and the Sellier family, they ended up collecting over 300 Lego sets for the children! They were shipped to their home and on December 23, 2019 Poppy loaded up her red wagon to deliver to Inova. She delivered the Legos via several red wagons, followed by her siblings, just like a train!
---
Inova Children's Hospital Child Life Program - Taylor T
Inova Children's Hospital has 3 playrooms on the PediatricMed/Surg, Cardiac/PICU, and Hematology/Oncology floors. These playrooms are open to patients and their families as they wait for medical procedures to be done, medicine to be taken and a place to meet new friends. The playrooms are stocked with books, arts and crafts, toys, playmats, a dedicated music space, and even a play kitchen. It is a great place for the kids to get away from the stress and anxiety of the hospital bedroom and find themselves surrounded by colorful, amazing toys as a distraction. These playrooms are a great place for child life specialists to connect with the patients. Our child life specialists are able to use many toys in the playroom as well as space itself to decrease anxiety, promote positive coping and minimize trauma for our pediatric patients. One tool in a Certified Child Life Specialists toolbox is therapeutic play since play is a way for many children to communicate. Our child life specialists are able to dedicate themselves every day to ease the anxiety and stress affecting children during a hospital stay, and Sheehy Subaru has helped provide them with the tools they need to promote the therapeutic play. Over the last few years, Sheehy Subaru and their customers have generously donated almost $100,000 to Inova Children's Hospital and have helped Share the Love to our child life program.
---
Carson, Cameron and Jacob for ICH - Taylor T
Last holiday season, Carson was transferred to Inova Children's Hospital to be diagnosed with and treated for Meningoencephalitis (severe inflammation of the brain and spine caused by infection). His twin best friends, Cameron and Jacob, got to come and visit Carson in the hospital to help cheer him up; the two brothers even got to participate in a "ninja course" with Carson in one of his physical therapy sessions! The Christmas after their visit with Carson, the twins were each given $30 to give to a charitable cause of their choice. Inspired by their experience visiting Carson and his fight against illness, the boys decided to give their combined Christmas money to Inova Children's Hospital to help support other kids like their buddy Carson. The spring following Carson's discharge from the hospital, Carson decided to dedicate his birthday to raise money for Inova Children's Hospital to give back to where he was treated. He ended up raising $200! He later said that he was inspired by the charitable act of his two best friends. The money raised by these three helps support our programs that keep our kids feeling like kids, such as a ninja obstacle course! Carson, Cameron and Jacob have been an inspiration to us all at Inova Children's Hospital and remind us to Share the Love every day! Sheehy Subaru has Shared the Love with us these past few years by donating almost $100,000 and has helped our kids enjoy as many aspects of being a child as possible. Join Carson, Cameron, Jacob and Sheehy Subaru in continuing to Share the Love for the kiddos at Inova Children's Hospital!
---